Serving the Vacaville, Fairfield, Dixon, Winters & Travis AFB areas since 1979
Serving the North Bay & Greater Sacramento areas since 1962 Share
In business since 1957, Tracy's schools for Martial Arts instruction are the oldest martial arts studios in California and still going strong, with over 1000 affiliate schools internationally and currently with 4 schools locally located in Davis, Vacaville, Fairfield, and Vallejo, CA offering self-defense, mixed martial arts, and traditional martial arts instruction, training and competition for the Northern California area, and with more locations coming soon ...
Hours of Operation
Open 10 AM - 9 PM, Monday - Saturday
Other hours available by appointment only
Location
57 Commerce Pl, Ste A
Vacaville, CA 95687
(707) 448-6622
Pricing
Description
Price
Introductory Trial Course: Four 1/2 Hour Private Lessons
$89.50

Family Rate: 1 pays, the rest train together FREE!

--- OR ---

2 for 1 Special: Bring a friend & split the costs!
Martial Arts & Self-Defense Instruction & Training
Click here for a list of our available styles and classes for instruction available at our Vacaville Studio
Photos of our Vacaville Location


In Vacaville we are conveniently located in the Raley's Creekside Shopping Center,
on the corner of Nut Tree Rd & Alamo Dr



We are in between Supercuts and Round Table Pizza, next door to Ruen Thai Restaurant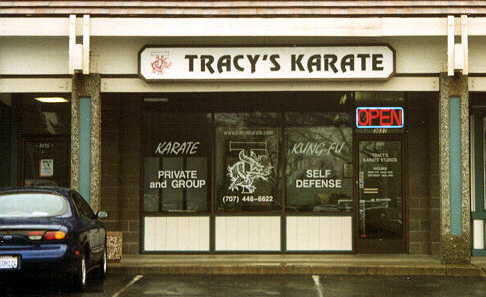 We are open 10am-9pm, Mon-Fri & Saturdays 10am-2pm.
We have been in Vacaville since 1991.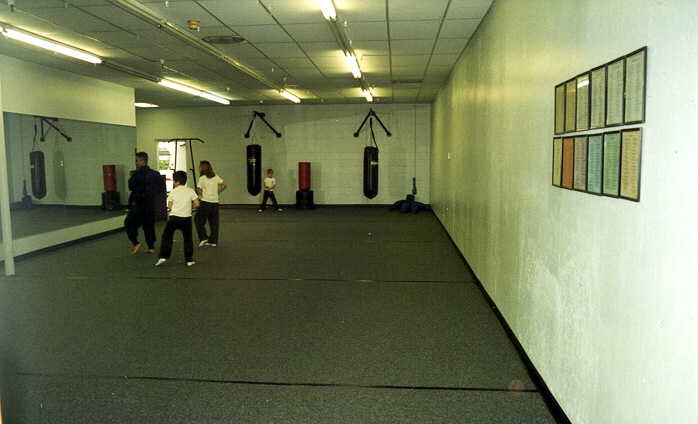 A brother and sister receiving a private lesson,
while another child warms up early for children's group.
It is this type of special attention that sets Tracy's apart from all other martial arts studios. We pioneered this approach in 1957, as well as were the first full-time (9+hrs a day, 6 days a week), professionally run studios in America. Our Vacaville studio is the largest and most fully equipped studio in the area to handle all of your self-defense, traditional martial arts or MMA (mixed-martial arts) needs. Our floors are fully padded, walls are fully mirrored, and we have an ample supply of heavy training bags, targets, focus mits, and all other necessary training equipment ... even a professional MMA ring! Most importantly though, we have a full staff of full-time, professionally trained and qualified instructors to give you lessons whenever is convenient for you or your entire family. Come check us out and see for yourself why everyone who shops around chooses Tracy's for all their martial arts training needs.
Directions and Maps
Here are some easy to use maps for finding your way to our Vacaville Studio
Google Maps
Mapquest